"Here's the Fort...now we just need a fool."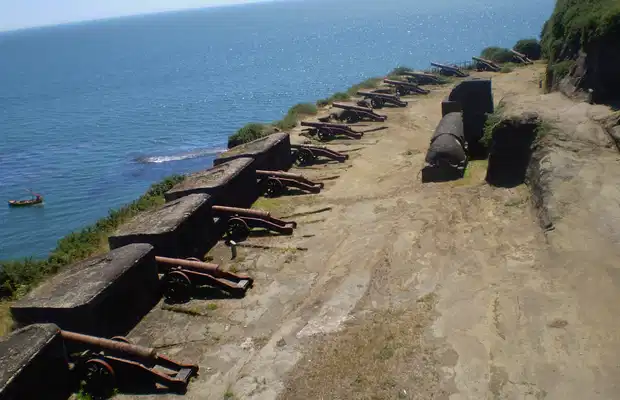 https://www.minube.com/rincon/fuerte-niebla-a110977
Well, I'd forgotten that I wanted to fight shore batteries, and making fighting tops seemed like a lot more time spent on guesswork as to the right soft plastic to use...and then I couldn't resist some wrecks! What can I say, I hate paying for shipping and I like complete projects. And forts / batteries are key to many actions - more than most gamers want to play.
Nelson said "A ship's a fool to fight a fort" but it was done - when needed it was more decisive than a blockade, if successful. There's also the possibility of a shore party since I got extra lifeboats! I plan to make the boats on bases where they can represent additional sunk ships, or shore parties, or whatever.
Interesting to see how it all adds up. I didn't need to buy 4 shore batteries, but I want to have a more complex action at some point, including Manila and other fictional actions in the Med - there are some good rules for it in General Quarters III and I believe also in Ironclads and Ether Flyers. It also is a key part of many naval campaigns to capture a port, not sink a fleet.
Anyway, batteries, boats, tops and wrecks...it's all in here now! Just awaiting delivery at this point.
1 Shore Battery #1 WTJ-0100781-30 $5.25 $5.25
1/3000 Scale 5.25
1 Shore Battery #2 WTJ-0100782-30 $3.75 $3.75
1/3000 Scale 3.75
1 Shore Battery #3 WTJ-0100783-30 $4.75 $4.75
1/3000 Scale 4.75
1 Shore Battery #4 WTJ-0100784-30 $3.25 $3.25
1/3000 Scale 3.75
1 Extra Lifeboats WTJ-0100790-30 $3.75 $3.75
1/3000 Scale 3.75
2 Fighting Tops - Large WTJ-0100792A-30 $2.75 $5.50
1/3000 Scale 2.75
2 Fighting Tops - Medium WTJ-0100792B-30 $2.25 $4.50
1/3000 Scale 2.25
2 Fighting Tops - Small WTJ-0100792C-30 $2.25 $4.50
1/3000 Scale 2.25
2 Wreck, Bow (Russian) WTJ-0100795A-30 $1.75 $3.50
1/3000 Scale 1.75
1 Wreck, Capsized (Russian) WTJ-0100795B-30 $3.25 $3.25
1/3000 Scale 3.25
1 Wreck, Stern (Russian) WTJ-0100795C-30 $3.25 $3.25
1/3000 Scale 3.25
------------------------------
------------------------------
------------
Sub Total $45.25